Water – Fighting disease in rural India
Sufia Khatun and her ten year-old daughter typically walk two kilometres a day to fetch drinking water, and often wait hours for their turn to fill a bucket. In winter, as the water level recedes dramatically, the pair face a trek of double the length. The scarcity of safe drinking water in Khiring Khiring village has forced their local angnwadi center (crèche), to stop providing lunches for the children.
It is estimated that 37.7 million Indians are affected by waterborne diseases in a single year – with diarrhoea alone thought to kill around 1.5 million children. The remote Khagorijan region is particularly vulnerable, as scarce sanitation facilities increase the spread of communicable diseases.
The area also receives little rainfall, and there are few natural water sources. Difficult terrain prevents many conventional wells from being built. This forces many local people to use brackish pond-water that increases their risk of being exposed to water-borne diseases, or to spend large parts of their day journeying to water sources.
Islamic Relief's latest development project is seeing toilets and ring wells installed in nine of the most vulnerable villages.
Local sources of safe water
Twenty-five ring wells – parts for which are being made locally – will be installed in the most vulnerable communities. The project is also establishing water management committees, mobilising 45 trained volunteers to make sure the wells are maintained into the future.
Over 18,000 people living in Khagorijan Gram Panchayat are set to benefit from the project, which is due to complete this summer.
Preventing disease through sanitation and hygiene
The project has trained local masons on making low-cost and quality toilets, and is employing local people to install the facilities. So far, forty specially-designed toilets have been fitted in three villages – with an inauguration event to mark the occasion.
Vulnerable households, such as those in which women are the main breadwinners, as well as disabled and elderly people, are prioritised in the scheme.
The toilets incorporate features such as ramps and handrails, so that people with limited mobility can use them. Around 35% of the toilets will serve as community facilities. In total, 140 toilets will be constructed through the project.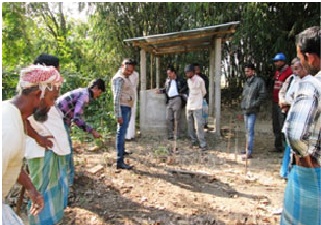 Local people are employed in constructing the toilets
Communities are also being shown how to protect their health, with a series of demonstrations on hand-washing and environmental cleanliness – as well as materials on purifying water and managing diarrhoea.
Islamic Relief has been working with local organisations in India since 1994, delivering development projects and emergency relief. We are currently providing life-saving aid in the wake of Cyclone Phailin.